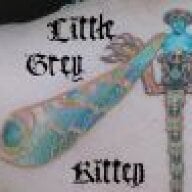 Joined

Nov 27, 2007
Messages

2,975
OK I just can't wait! So a few weeks ago, I contacted
Victor Canera
to reset my 3.39 ct OEC (he finally weighed it for me- that's the actual carat weight... previously it had been estimated by measurement to be 3.55 cts).
When I first contacted him, we discussed various options via email; he's very responsive via email unlike many vendors. I was allllmost tempted into doing prongs; he felt it would be fairly safe even with the razor thin girdle on my stone, since the high crown angles keep it from being as fragile as you'd expect. His prongs look absolutely amazing, but I eventually decided to go with a bezel after all, since I don't take my ring off much at all (and thus do stuff like clean the litterbox whilst wearing it, haha) and I don't trust myself not to damage it. He made me some mock up pics to help me decide, which was indeed very helpful.
I wanted the French cuts to have that sexy taper, a la Love Street & Wintotty's settings by Leon. But, I hadn't realized that doing such with a round stone was more difficult- it's just hard to fit flat sided stones up against a round one like that. Nevertheless Victor got a nice taper *somehow*, which is awesome.
The French cuts are color matched to my M color OEC.
Victor quoted 4 weeks for the work- and got it done in an astounding 2! It will be here Thursday.
Victor said that with the new setting my OEC faces up like a G, *conservatively*. Wow. It definitely looks super white in the glamour shot he sent. OECs are like that- they really can face up astonishingly white if there's no super-white melee contrasting with them. Bezels for some reason flatter mine like you wouldn't believe. Not sure *why* but I'm not complaining!
The shank tapers from something like 6mm to 2mm (off the top of my head). The French cuts were custom cut for me- cut from princesses I believe with large faceting to match the chunky OEC facets. There's engraving all over, millgrain on all edges, and a bit of filigree in the profile view. The platinum setting is totally handmade, no cast parts whatsoever.
Victor Canera
is an absolute dream to work with and I'd highly recommend him- I found his prices to be definitely reasonable for custom, handmade pieces, and he has a *great* eye- frankly I found him practically psychic to work with, he knew what I wanted so well. He's also very flexible and will absolutely do what *you* want, and be totally pleasant about it the whole way too- for example I know he thought prongs would be the best aesthetic look for my ring but I decided to go with a bezel anyway. (And frankly I did agree with him, but I am really hard on stuff and had to take that into account- this is absolutely the "forever" setting for my OEC.) And his responsiveness via email is awesome for PSers, too. He's really a sweetheart.
I'd always loved his work since I saw the first ring posted here in 2008 by devonht- there was just something about the balance and lines to his work that spoke to me. There's something about the delicate-yet-substantial look to his work that I adore, and which reminds me of the best antique pieces- and the workmanship is top notch. And after I saw the tapered French cut setting posted here a few weeks ago by angietaren I knew I wanted a variation on it like burning, haha. I cannot wait to see the new setting in person
Thursday can't come fast enough!