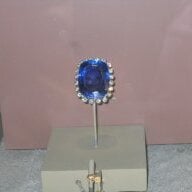 Joined

Sep 5, 2003
Messages

2,403
At the start of the 4th week after I sent my stone to
Victor Canera
, he finished the ring! So fast! I was eating out with my family when I got the email it was done; good thing I was already sitting down or else I might've fallen over. I opted for a cathedral shank with a diamondless donut so I could wear a band next to it. The stone is a 1.35 G SI2 GIA triple X .6 HCA stone. I believe there is .43 in melee but don't know any other details; it's a 3.75. I also have our wedding date engraved inside.
I love this ring! The pave is very smooth and comfortable, which is something I'd been worried about. To my eyes, it looks less tilted than the famous Frankie ring and I do see more metal on the lip of the halo than on hers, but then again, her stone is three times the size of mine and I'm sure that changes the look of each ring. I was very torn between the original Emilya and this one so I showed it to my husband, who said he preferred the cathedral, and there you have it!
I only have an iPhone to take pictures so they in no way do the ring justice. I also have no creative props so most of these pics look alike.
Victor and his assistant Paige were very easy to work with and quite responsive- thank you so much! I didn't keep track of the number of emails I sent- I'd like to think not too many
- but they were all answered very promptly. I can't believe that I own such a beautiful piece! Thank you to all the PSers who posted pics of their own Emilyas; I obsessively pored over your threads and pictures (and still do).