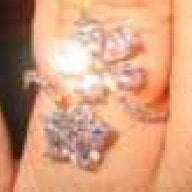 Joined

Jul 18, 2002
Messages

139
I'm finally getting around to setting my heart diamond -E SI1 3.67. Yesterday I went and picked a setting. It's a Verragio. It's just a plain setting from the top, and on the side it has a little "V" of diamonds. I couldn't find pictures of it on the website, but it's just a standard looking platinum cathedral setting (someone here has a similar setting with an ascher stone) but just the little bling from the side view. I wanted to keep the setting mostly plain because I'll lose the heart detail if it has sidestones, but the little V of diamonds from the side view are nice and don't take away from the overall shape. (It's not the one with the diamonds in the
Ok, so the price of the setting I saw was high but then they said it would be a little more to custom made the head so big for my stone.... Today they call and say that they can't just make a bigger head, they have to create the "entire ring" around the diamond, so the price DOUBLED +. They said the jeweler talked with Barry Verragio about this, so I guess I'm that made me feel a bit better ??? I decided to still go with it, because the setting was so pretty. I know NOTHING about verragio settings, but was told the diamonds will be E-F VVS color, is that true or not? The diamonds in the "V" of this ring were so small, they looked like chips, I don't know if that will change since the whole ring will be larger. I'm a bit nervous since I won't be seeing the ring at all until it's finished (4 weeks).
1. Here's my question. I know most of you aren't fans of heart shaped diamonds, but see if you can think outside the box on this one regarding the prongs. I know I have to have a "v" prong for the bottom of the point of the heart, but for the other prongs, do you think I should go with claw prongs, or standard prongs.
2. Also, do you think since the diamonds they were using look like chips, should I upgrade to the smallest cut diamonds? What is the smallest "cut" diamonds? are they 1 pointers or is there smaller?
3. Since it's custom, should I ask anything else, do anything else? The jeweler is trying to get me a photo of the setting and I'll post as soon as I can.
Again, I don't know anything about Verragio, the company...any insight on the company and their experiences would be great...