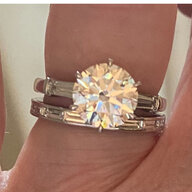 Joined

Mar 31, 2018
Messages

9,930
It's terribly sad. We are going through the same with my FIL. It's absolutely heartbreaking. We can only send one person per day in the hospital, but when they move him to 'rehab' it is a zero visitor policy. This is his end of life and he has to be alone....his DW isn't handling this well at all.

Also, my DD is having a colonoscopy and endoscopy tomorrow and I can't accompany her either. I seriously am struggling with these restrictions.

Fingers crossed

@kipari

You totally did the kind thing...as they say, no good deed goes unpunished! Stay well!!
I'm sorry
@Slick1
I'm sorry you and your family are going through this...Big hugs..