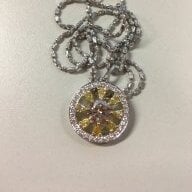 Joined

Feb 8, 2011
Messages

302
was what I was told by a B&M sales person promoting his eternity band.

This was when I commented there's hardly any sparkle on some of the diamonds. He also said diamonds are good investment
. When I asked if his shop buys back the diamond they sell, he said no, but some of his customers have sold to their friends for a profit and I can do that too!
Gosh! I got so mad hearing all the cr*p he was telling me! I just have to vent it here.
I know I shouldn't expect much from most B&M shop, but I just couldn't stomach all the nonsense he was sprouting. I reckon he is probably an over-zealous new sales guy trying to clinch a sale because the last time I went to that shop, I had a nice chat with another lady about cut, color and clarity. At least she didn't come out with ridiculous excuses when I refused to look at a 1.5ct Good Cut diamond she had with her, saying that I am very particular about Cut, above all else.