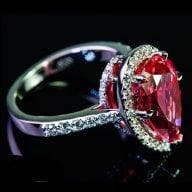 Joined

Apr 22, 2004
Messages

37,178
Hello all,
I don't want to clog up the existing thread with my questions but as I haven't visited the thread in forever, I just noticed questions by 3 members that has not been addressed for months. My apologies!
I guess now is as good a time to do a bit of spring cleaning and maybe add some vendors and remove dead links.
@whitewave
Flawless facets is gone
eBay wild global minerals is gone
Jeff Davies eBay store is gone
NP, I can remove them. Any idea if they've changed websites?
@MrsKMB
Bad links for: gemshoppe (has an etsy page but only one item), julia kay taylor (no online presence), quest fine jewelry (is this quest jewelers?)
Not sure about Gemshoppe, I think JKT started her own website but might have to dig around a bit, and yes, Quest Fine Jewelry is Quest Jewelers.
@wordie89
Tan links aren't active and Love Affair Diamonds doesn't have active link either.
Are you requesting to remove Tan's eBay links?
LAD is no longer in business and should be removed, is that right?