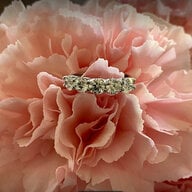 Joined

Jan 25, 2020
Messages

622
I have an
ACA
in the works! Im very excited. I received my first diamond in the Vatche U-113 setting, but had to return due to an issue with the diamond. (I'll share details at a later date.
Whiteflash
has been super helpful along the way.) I liked the setting but found it to be a little too wide. It was measuring 2.4mm, Michelle said they could thin it out to 2mm. This change makes it semi custom, therefore not returnable. I declined because I was hesitant as to the finished look and being stuck with an expensive setting I didn't like. Has anyone modified the Vatche U113? This got me looking at the petite valoria. I thought the vatche u113 was very well made. I'm not sure if the valoria will look "cheap" in comparison. It's still a lot of money to spend. Anyone get a chance to see these both in person? I'd really appreciate feedback.
On the other hand, I'm also considering the Jovyn by CVB. Although, I've seen several less than stellar reveiws on here from people dealing with Caysie. That's giving me a big red flag. I really don't want setting my diamond to become a months long process…. My diamond will be about 3 carats and I love a solitaire. Will the Jovyn or the Petite Valoria be too thin?