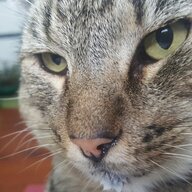 Joined

Apr 30, 2019
Messages

3,763
@Jambalaya

- yes, people actually said those things to me, without knowing the circumstances of why we had one child, which frankly, was none of their business. I told my MIL once when she was going on about SIL being such a wonderful mother that I had no intention of spending my life being a brood mare.

I actually had a horrible pregnancy, I was physically sick every single day right up until the last 3 weeks, and the delivery

excruiating. I don't regret having my DS but I didn't/don't live my life through him, and as for people having lots of children and expecting the older ones to raise the younger ones, I can't think of anything more selfish than to deprive a child of their childhood. I did know someone who had 8 children, she loved being pregnant but after they were born, didn't have a lot of interest in them. Her eldest daughter said she never wanted to have any children because she'd spent so much of her childhood raising her siblings.
thats so sad
back in the day before the pill by friend's mum was one of 14 (12 lived)
she was 15 and still at school with school cert exams and had to shear a room with the baby
and she was still upset years latter about being on the bus with the baby in the pram and older woman looking down their noses thinking she was an unmarried mother
neither my friend or her sister have kids and their mother is completly ok with it so its good some families have acceptance