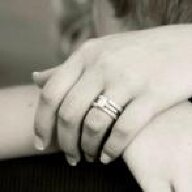 Joined

Dec 9, 2010
Messages

68
hi guys - i have put my order in for my wedding bands - two 3/4 eternity bands set with 0.06ct stones. Similar to the
BGD
Dream but it will be a little different. From memory,
BGD
told me the profile height for 0.06 stones would be 1.8mm and if they were 0.10 stones it would be 1.9mm - I have told my jeweller that i am wanting them to be 1.8mm and he has said that we can do that, but we run the risk of the diamonds poking through just slightly. He has suggested 2mm or 2.10mm. I want this ring to be as low as possible, to sit snug beneath my engagement ring.... do you think the 1.8mm will be ok? He has said we can do it however I want, but I don't want to tell him to stick with 1.8mm if the diamonds will end up poking through.... then it will be my fault.
I do think it's a little odd though that
BGD
said 0.10 stones would be 1.9mm... the 0.06 stones should be fine in a 1.8mm height, right? Or does it depend on the skill of the jeweller?
Would love to hear from some jewellers if you are out there.. I am really stuck on this!