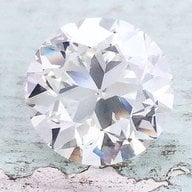 Joined

May 23, 2016
Messages

1,041
I am looking to upgrade to a cushion in a platinum setting, leaning towards a halo setting. I have narrowed it down to 2. I will need to make a decision soon as my hold will soon expire. I prefer a more rectangular shape and I am just looking for the stone that will have the most WOW in a ring. I am not as concerned about the clarity, just that it is eye clean and visually appealing.
My first choice was this stone: I really like the unusual shape and feel like it has a great deal of sparkle, but as it has been pointed out to me there is some "crushed ice" appearance in the corners of the table and the thick girdle. Not sure how that will impact it's overall visual.
ASET report not available.
https://www.jamesallen.com/loose-diamonds/cushion-cut/3.11-carat-h-color-vs1-clarity-sku-1081095
On a previous thread, this next stone was suggested and now I am torn. I really like the fire in this stone. It is smaller in carat weight and measurement. It also is not as elongated as I would prefer (I have short fingers, size 6 ring ).
https://www.jamesallen.com/loose-diamonds/cushion-cut/3.03-carat-i-color-vvs2-clarity-sku-245748
I have gotten mixed feedback form "the diamond experts"- Please help!