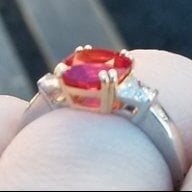 Joined

Nov 3, 2009
Messages

7,589
Thaigemstore has already refunded you the price of the sapphire.

Well, I bought a sapphire from an overseas dealer whose name I am trying not to mention (since I still hope that he will refund me). The stone which was described as "unheated, blue with violet overtones" was hopelessly, darkishly violet. I emailed the very day that I received it and said I was sending back the stone. The vendor was surprised but agreed.

Now you know how difficult it is to mail a stone back to another country. An expensive stone at that. All the more so that I never made returns to that place. I explained the procedure to the vendor, he said he'd be looking for the stone... silence.

1 month... silence. I found the FEDEX receipt and sent him an email virtually clutching the receipt in my hand...
Two days go by... finally, an email!

Apparently, I did not send the certificate with the stone. Without the certificate (which is not GIA, AIGS, just a trained gemologist from the office... it is a merchant's certificate!) the guy can not sell the stone to the next customer!

As if he does not understand that it is not the best of ideas to mail the certificate with the stone! Apparently, he got the stone a long time ago, never told me, never said he needed the certificate, and is just sitting there on the refund waiting for ... what?

Now I am looking for this certificate... You know, when I once lost the certificate from my appraiser, he immediately found it in his computer and provided me with a copy! What is the problem with the certificate? Well, it has a stamp that glitters... maybe the gold in the stamp is so expensive?

Just for my interest - what do you think will happen if I do not find this certificate? How much can one charge for a lost homebred certificate? When I once failed to return a certificate to Tan and wanted to send it via a separate mail, he emailed me saying that it was not a problem and that they could always get another copy from AIGS...

And what if the certificate gets lost in the mail?

I shall keep you posted. As of today, I am minus 1.1 K minus the stone...