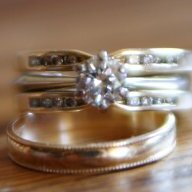 Joined

Jul 25, 2008
Messages

55
A few weeks ago Hubby and I went into a store to see if they had anything similar to what I was looking for. I had decided to just reset my original stone in a halo setting. Went back and forth on whether or not I wanted to have something custom designed and put sapphire''s in it. I''m super super wishy washy. Very indecisive!
So we go in and I try something on and I fall in love. Price is right. I tell them I''m going to sleep on it and let them know tomorrow. (This was in another town and we were there for my daughter''s volleyball tournament.) So while the salesperson is off writing down the item number Hubby looks at me and says, "Why are you going to sleep on it? You like it, right? If you don''t get this one you''ll just keep looking and looking and never end up with anything." He''s right. I have this huge fear of commitment because WHAT IF I find something I like better on down the road?! lol
So I got it. A reset and a band. They called last Friday to say it was in (they had to order it in my size) and so I drove over and dropped off my stone. I also got to pick up the band. Yeah! It''s very simple and dainty and I can not WAIT to get the rest of it on my hand this Friday! Then all I need is to decide on which sapphire/diamond stacker to pair it with. I''m thinking I''ll do a BevK one from Pearlman''s. I''m wanting some space between the bands, I like the gap...so I want one with different shapes that will allow for that.
Here''s my band, on my son''s rook.
(Ugh, this place hates me! I can never attach pics! I''m going to try again.)