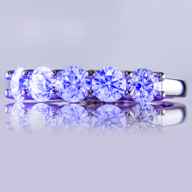 Joined

Sep 16, 2015
Messages

77
I purchased a 1.9ct WF ACA for my wife's engagement ring a couple of years back and I just found a 2.07ct WF ACA with 5.6% more face-up size and I'd only pay for a 2.5% increase in price (after upgrade credit, resetting, shipping, etc) – both AGS0 H VS2.
I loved the symmetry of the original's AGSL computer generated map on the certificate – very symmetrical. But the upgrade's map is, well, just a bit messy – even though the actual ASET image seems excellent.
And in the video the original diamond had a few moments of crazy sparkle, but the upgrade doesn't have that same burst – but it has different lighting.
I'm already not happy with the color grade on the original one – when I compared with GIA reference stones at the appraiser, it looked more like an I to me. And comparing videos the upgrade one seems to show even more yellow from the side – but again, different lighting.
She's got tremendous eagle eyes and the crystal on the edge of the current stone is visible to her; but the new one has needles and clouds under the table.
I tell myself that all of these differences will be imperceptible because it's ACA, but I'm no expert. I need more experienced perspectives to tell me whether my hangups are reasonable or whether I should just get over them. (My wife has a PriceScope mindset as well, so the details are important.)
My wife would be pleased to get over the 2ct/8mm threshold, but I'm not sure whether my/our mind-clean has been spoiled by staring too hard at these details and whether to move forward.
Original:
https://www.whiteflash.com/loose-diamonds/round-cut-loose-diamond-3508621.htm
Upgrade:
https://www.whiteflash.com/loose-diamonds/round-cut-loose-diamond-4178483.htm