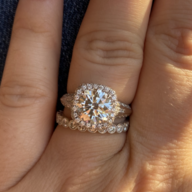 Joined

Dec 10, 2019
Messages

143
I looked through the different threads and didn't know where to post this so I'm going to try here! I've been a PS lurker for years and now I'm thinking about upgrading my ring. The problem is I have NO IDEA what to get. I love so many styles and I'm so indecisive.
My husband proposed with a .8 excellent cut round brilliant D color solitaire. I felt like my fingers were too big for it so I had it reset in a Verragio look alike halo.
I love Halos. I'm thinking about getting a 2-2.5 ct stone set into another halo. I love MSOP's halo which I'll post a picture of.
I also love how large solitaire's look on other people. I bought a 2 ct solitaire on amazon to see what it would look like. I feel like it looks small on me because my fingers are big. I think I'd need at least 3 CT's to look good and I'm wondering if that would look ridiculous for everyday wear on a 25-30 year old.
The pictures uploaded in the wrong order... the first picture is MSOP's Christopher designs halo which I am OBSESSED with and want to buy but I wasn't planning on buying anything until next year and probably shouldn't spend the money on it yet. I would buy it now if I could and save it. If it's still there next year it will be mine!!!
Picture 2 is the 2 ct amazon ring I bought to see how a 6 prong solitaire would look. I would have to get a larger stone I think but I love yellow gold shank with platinum 6 prong.
Picture 3 is my current set. I really like it but I just feel like my fingers look fat in it. I'm a pretty small person so I just don't know why my fingers are so short, stumpy and thick.