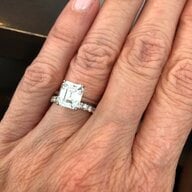 Joined

Feb 12, 2011
Messages

4,598
So I had the perfect diamond and setting. Except I had moved from a halo to a solitaire. Don't get me wrong I love the look of a solitaire I just didn't have one that was a big enough diamond to compensate for that real estate coverage you get with a halo.
Grace told me this when I bought it but what does she know?

(more than I do).
In January '15 I met ROL in Miami to cruise the Antique Jewelry Show. On this trip Grace found this beauty for her.
http://www.jewelsbygrace.com/loose-diamonds/2-01-to-3-00/2-56ct-old-european-cut-diamond-gia-j-vvs2-916#.VwO7fXr3aK0
I had the misfortune of trying it on first in the diamond holder. That was it, I'd been bitten by the bug. It was so stunning.
Flash forward to this year's Miami Antique Show. I had talked DH into going. With my diagnosis/surgeries last year we hadn't celebrated our birthdays, our engagement-versary or New Years and we were due! We arrived just in time to visit with Grace in the afternoon before she took the red eye home after a week of diamond shopping. (I want her life). She introduced me to this little pretty.
http://www.jewelsbygrace.com/loose-diamonds/2-01-to-3-00/2-69ct-old-european-cut-diamond-gia-j-vs2#.VwO8UXr3aK0
DH and I studied it and I handed her my BGB 2.0 ct set in the very beautiful Victor Canera Evelyn for her return home asking her to list it and to start the ball rolling on my upgrade. To my surprise a very busy JbG Instagram account meant there would be a flurry of inquires.

we are still working out the final details but she listed it in the February Jewel Journal and it sold by 4/4. This was a nice surprise.

Today my upgraded arrived in the Erika Winters' Laurel. This was not an easy choice. I picked it for two reasons. One, I still wanted the look of a solitaire. Two, I'm a flush fit girl. I love, love, love the Margot but I like my bands to sit flush. Owning two EW bands I really wanted one of her settings. I'm also a matchy matchy girl. (Borderline OCD). I love the finishes and the details. Actually, I love everything about her designs.
This diamond is so white it glows. It's so hard to get the true glow in pictures. Anyone thinking a J OEC is warm... Think again. My pictures are never great and these don't come close to matching the beauty. I will try this weekend with the nice camera to get better pictures.
Now sharing pictures of my latest upgrade.
Hopefully my last. (Don't quote me and don't bookmark this and remind me when I'm off on another adventure).