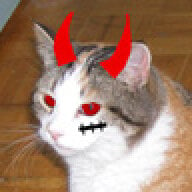 Joined

Nov 19, 2004
Messages

3,450
So I''m having a very long, tedious day and thought I would ask a question that has been burning in my brain all week now. I''m especially intrested in this because around where I live, there''s no basis of comparision, and I know you lovely ladies have access to more bling


So for all you size gals out there, HYPOTHETICALLY, if you could only have 1 diamond purchase (no upgrades etc.) this ONE IS IT. Would you get a 2 carat diamond today (as in tomorrow), or would you wait for 4 years for a 2.5 upgrade? Both stats being absolutely equal.
I''ve been going back and forth on this for some reason...I keep saying, well I may be dead in 4 years. Basically instant gratification for size, or patience for the ideal. (Oh and is the difference noticeable? I''ve been stalking SMTR folder, but there''s all sorts of different hand sizes, settings etc... so if any of you gals happened to be lucky enough to make this comparision, I would love to know).
Back to studying now. Thanks ladies.