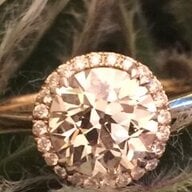 Joined

Apr 19, 2013
Messages

732
I posted a while ago for advice on making a decision on using a spacer or soldering something to my 3 stone ring to protect it from stacking bands. I had previously soldered a plain gold band to it, and felt like it was too thick and made stacking harder. I really wanted to go with a spacer, but my jeweler ultimately convinced me to go with a fixed band. So I started looking for a thinner plain band, and then -- don't know why I didn't think of this before -- decided to find a very thin diamond band to solder in place and be the "protective layer."
I looked at many options, lots of them on Etsy. I finally settled on a .30 ctw shared prong band, approx. 1.5mm. I love how the jeweler soldered this one -- rather than pushing it right up against the underside of the 3 stone, she created a little gap, and I think the result is much more pleasing and natural The little band gives a nice bit of extra bling and I love how the ring looks by itself, but it also stacks very well with my collection of bands.
The new diamond band is from FineJewlers on Etsy. It arrived in exactly a week and pricing was great. Photos...
3 stone with soldered band, alone: