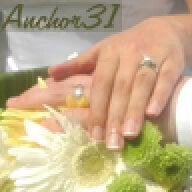 Joined

Oct 18, 2005
Messages

7,074
I wanted to bumped my
old thread
about this but couldn''t, so here we are.
Things have been pretty hectic and I''ve not had alone time with my sister for months, even during the Christmas break, so I haven''t had the chance to tell her about how her behaviour towards my wedding was hurtful. It has changed stightly (I wonder if my mother talked her her), but instead being downright nasty now she just shuts me out, which is still frustrating.
There was still some interesting development yesterday. She invited me and a couple of friends over for dinner, and we were talking about weird things about our names (one friends is Polish and the other has a Scottish name that sounds like "l''enfer", which means "hell" in French, so it was a pretty interesting conversation). I said that I always disliked having an hyphenized last name and I wish I could change it when I get married (FI has a simple, short and common last name), but can''t because of the Québec province laws.
My sister FLIPPED OUT. She was almost yelling at me, saying I couldn''t
want
to change my name, that I was being disloyal to my family, that I wasn''t FI''s possession, that I was
her sister
and couldn''t have a different last name, etc., etc. She was really upset and it was awful. Her two friends are American and we just looked at each other while she was ranting, not really understanding what she was so upset about... They even suggested that if I really wanted to change my name, maybe I could change it before getting married (which would unfortunately be a complicated and costly process), and my sister was just completely freaked out.
I had intended to talk to her after dinner, but I was so shocked about this that I didn''t. I pondered this on the one-hour bus ride home this morning, and I realized something. This isn''t about the wedding or her not being into "girly-bridy" stuff. It''s about my
marriage
, which is even worse. Her attitude about the wedding and the name-thing, it all boils down to one thing:
She''s afraid that she''s going to lose me.

Which is sad really... I''m not
dying
, I''m getting married. I''m not dropping out the face of the Earth and I won''t stop talking to her and the rest of the family... She''ll have to accept that I will be "cutting the cord" in a sense, and that my husband and future children will be my closest family from then on, but it doesn''t mean she won''t be my sister anymore, or that she won''t be important to me!
I''m not sure what to tell her. This makes me so sad...

She needs to let me go before this destroys our relationship... But I just don''t know what to do.
Help?