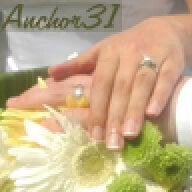 Joined

Oct 18, 2005
Messages

7,074
My MOH is my sister. I love her to bits, but while she adores my FH, she''s having issues with her "little sister" getting married. We''re twins and we had sort of a big sister/little sister codependency relationship when we were children... But now that we''re adults, it''s starting to be a bit of a problem. She''s nowhere near ready for something as serious as getting married, so she''s having a hard time with the fact that
I
''m ready to get married "so young" (23).
When I asked her to be my MOH, I told her I wanted her to be it because she''s one of the most important people in my life, but I wasn''t sure if she''d be comfortable with the responsabilities, so I didn''t want her to feel pressured. She said yes and insisted it was important for her to do it because she knows how important this day is for me... But so far she''s only hurt my feelings.
I know my wedding is still a long way off and I
do
make a conscious effort to not talk about it unless it''s necessary (budget talks, etiquette/procedure questions and other small pre-planning stuff). Nevertheless, she told me she doesn''t want to hear about the wedding until next summer (I intend to take advantage of the summer holidays to do most of my planning), she tells everyone I always talk about it and she acts like she wants to shoot herself everytime it''s brought up. What, am I supposed to not answer when a friend/family member asks me about it while she''s there?

I do all I can to take her feelings into consideration and not be a bridezillas, but I''d appreciate if she''d make the same effort to not be a MOHzilla...

I don''t know what to do or say... I feel like I have to watch my every word around her. I''m not scared she''ll neglect her responsibilities, she has a great sense of pride when it comes to duties, but... I''m scared she''ll be doing them "just because I asked" and be in a foul mood during all the planning and worst, on the wedding day...
Do you think I should address this sooner than later, or wait until the actual planning begins? How should I talk to her?
Help please?