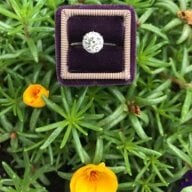 Joined

May 25, 2016
Messages

308
I ended up choosing an L colored diamond. I had it narrowed down to three stones, one of which was a K. To my surprise, I liked the L better than the K. It's a VVS2/L. 1.81 carats.
Adam was great to work with and he spent a lot of time explaining things to us and showing me a wide variety of options.
He is going to ship the stone to me, so I don't have it now to stare at and obsess about how white it faces up. Lol.
I left very happy but I'm wondering if I will regret not going for the K?* I honestly couldn't tell much of a difference between the K and L. Not enough to sway me to pick the K. I liked the cut of the L more.
For those that care about color, in that they want it to seem like a not-intentionally-yellow stone, would my choice give you pause? For the long-term? I'm wondering if anyone here went too warm and has regrets?
I'm planning to set it in platinum, if that matters. I am leaning now towards a bezel. I did see more of a tint from the side, but that was the same for the K.
I'm worried about finding a band that doesn't have stones that are too white next to it. But I think whether I got a j, k, or l I would have that concern when looking for a band. I don't want big stones in a wedding band so maybe it won't be a big deal.
Ok, going to try to figure out how to post pics from my iPad. I don't have great photos but you can kind of see.
*I am an obsessor in general, so I would likely be doing this no matter the scenario. Still, I hope it doesn't look like I chose a yellow diamond. (An I or J wasn't really in my budget when you factor size, I didn't want one that wasn't perfectly round, etc, etc.)