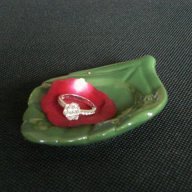 Joined

Jan 20, 2007
Messages

52
Hello! I need HELP/ADVICE with trying to find the perfect wedding band to fit flush with my engagement ring, yet still have the wedding band look good enough to be able to wear on it's own.
My e-ring is unusual in the sense that instead of having one big stone in the middle, it has 7 small round diamonds in an invisible setting so that in certain lights and angles, these 7 diamonds (G VVS1) look like one big, sparkly diamond. There are also 5 tiny diamonds on each side of the center stones.(Total of 17 diamonds = .70 ct.) Since the ring is not in a raised setting, a regular round wedding band won't fit right next to the e-ring. I know I could just get a regular wedding band and wear it on my left hand, while wearing the e-ring on the right hand, but I really don't want to do that as I want to wear them together without spaces in between!
Please give me ideas on how to achieve the "fit together" look I want and/or post photos of your unusual e-ring with the wedding band you chose. In the meantime, attached is a picture of my e-ring...sorry am not a great jewlery photographer.

THANKS!!