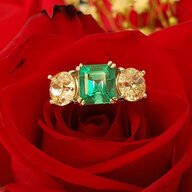 Joined

Jul 18, 2014
Messages

41
Hi All, created a thread to share my Columbian emerald and OEC three-stone ring! Thank you
@Mreader
for the suggestion!
To start, in the year 2020, I had a BIG birthday (one whose number shall not be spoken aloud...) I'd been dreaming of an emerald birthstone ring for years and decided that I'd better do it now if I want to enjoy it! I read every emerald post here on Pricescope, and also read Ron Ringsrud's book
Emerald's A Passionate Guide
, which is a marvelous story as well as being instructional. But, I was over-whelmed and afraid to make a mistake in choosing a stone on my own. I had worked with Gemological Resources in PA a few years ago to re-set my engagement ring, but didn't realize at the time that the owner, Shawn, was so knowledgeable and passionate about emeralds (also natural pearls, BTW.) Anyway, he was excited to help me find the right stone. I knew I wanted an untreated, Columbian, emerald cut of about 1.5ct. Shawn sent a few videos, and we agreed on a few stones for me to see in person. I have to say that you need to move quickly if you find one you like because it won't last long. I hesitated for about two days on one stone and lost it. Anyway, the decision was narrowed down to two stones: the 1.29 ct that I purchased, and another 1.45 that was more rectangular, more ideal in saturation but not as cyrstalline or flashy. I literally had heart flutters when I saw this stone!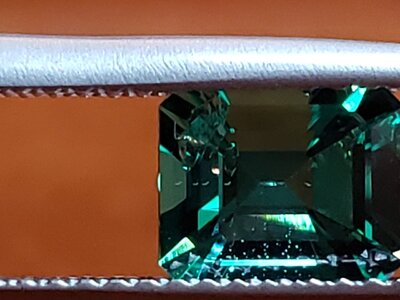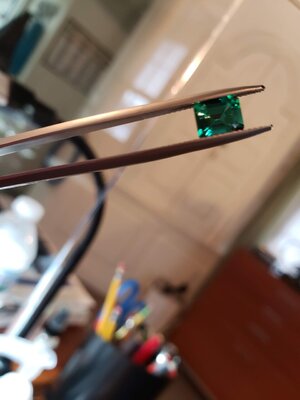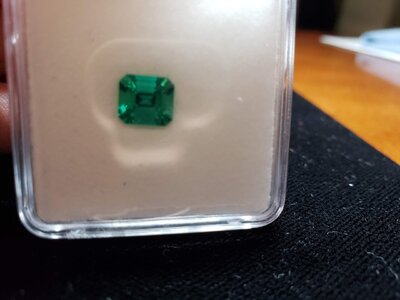 So, for the ring, I had a few inspiration pictures of an Edwardian style 3-stone ring with OEC stones. I thought about using trillions, or even baguettes or other step cut side stones, but kept returning to the emerald cut between the two rounds. This is my favorite of the inspo photo, a square cut with OECs.

After a couple of weeks of searching, Shawn and Janet at Gemological Resources found two really well-matched OECS within my budget! I'm posting a side view of the three stones prior to mounting. Just love OECs! Just enough bling but not too much to overpower the emerald.
Stone stats:
Emerald cut Emerald: 1.29cts 7.10x6.41x4.68 AGS Columbian origin, enhancement: None
OEC 0.95ct 6.08x6.22x3.76 GIA K SI2
OEC 0.94ct 6.02x6.26x3.75 GIA K SI2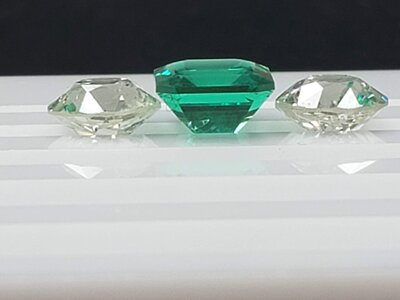 So, for the mounting, there was a definitely difference in the tone of the emerald when placed in yellow or white gold, but I knew I wanted white gold for the diamonds. It was a tought decision, but decided to go with white gold for the whole ring rather than two-tone. I love the soft patina of 18kt white gold as it ages. It just seems a bit less cold than platinum. I also knew that I wanted very delicate prongs. (With a three stone ring when all the stones are similar in size, sometimes, all I see is a railroad track of prongs.) So, we decided to go with delicate prongs, but double prong the emerald.
Here are CAD shots for those who like to see them!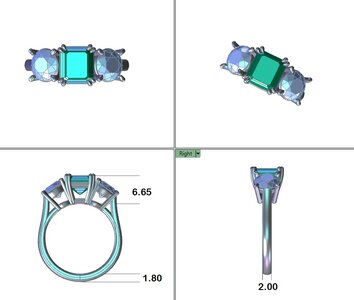 And, here is the finished ring! Oops, I need a manicure...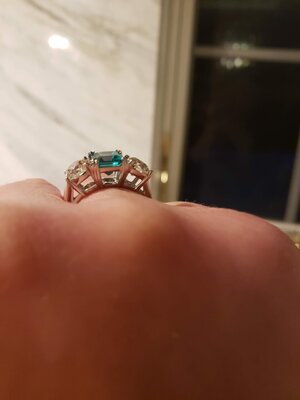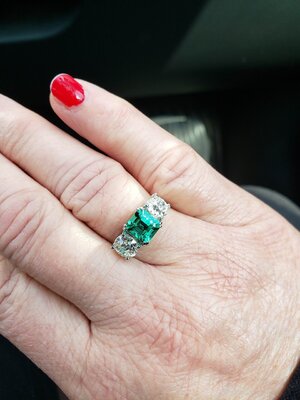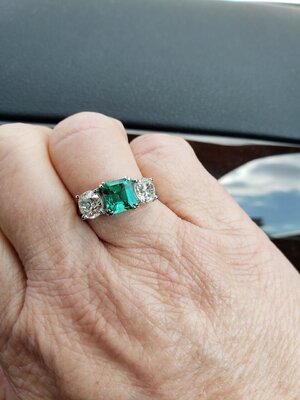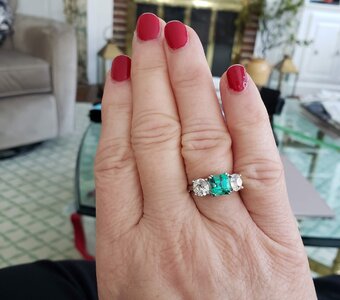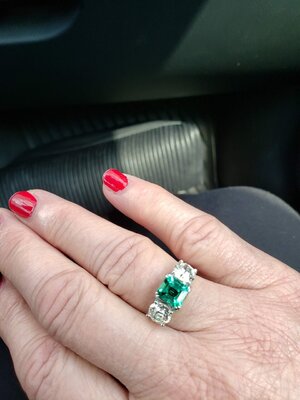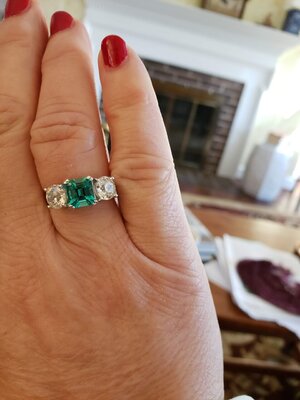 Hope you enjoy! XOXOX