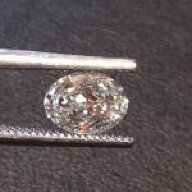 Joined

Jun 9, 2011
Messages

203
How do you think plated vs unplated WG interacts with the perception of a diamond's color?
Does the whiteness of plated WG make a "warm" diamond look warmer in contrast?
Does the warmth of unplated WG make a colorless (DEF) diamond look more colorless?
My stone is a G (GIA graded), very very beautiful (I think), and quite white to my eyes in person, but I can see a little warmth in pictures (not unpleasant to me). I am leaning towards unplated WG (platinum isn't in the budget right now, plus I'd be concerned about its scratching, and I don't cerebrally like the idea of "covering up" the gold itself with rhodium. Also, I do like the luster and creamy warmth of the unplated 14k WG), and wondering how that warmth with interact with my stone's color... Thoughts?