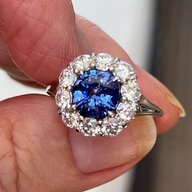 Joined

Aug 18, 2013
Messages

9,194
Ooo total blast from the past there. Yes, I got the milgraining in the end. I had to bring my ring back to the vendor so they could ship it to their bench. But then they had the bench ship it back directly to us. Whole process took I think like, 3-4 extra days? I cringe thinking about how I almost wanted to scrap the whole thing with this vendor bc of a couple of hiccups. Nowadays, if something comes with with a project, I merely shrug and go, "Well mk, thanks for keeping me posted!"
Atta girl.
I read that part of your journey and wondered what happened. When one starts collecting jewelry, you don't realize how much there is to learn - but there's a LOT.
I'm glad you didn't scrap and start again - it's a lovely ring!