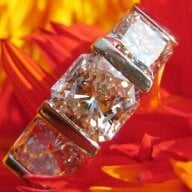 Joined

Feb 20, 2006
Messages

1,420
I'm not sure how I feel about this so I'm coming here for some enlightenment/reassurance.
What would you do?

I am thinking about buying diamond stud earrings as a gift for a family member.
They will be .75 ctw from a very trusted PS vendor.

I mistakenly thought the diamonds (.375 X 2) were going to be certified, but I just found out that they are going to be hand picked by the vendor from their uncertified inventory.
They are described on the website as H, SI's (website is not specific as to SI1 or SI2) price for the bezel set earrings is $1,617 for .75ctw.

I'm told by the vendor that this is a great value for the money and that certified diamonds would carry a much higher price tag. They assure me their diamonds are very well cut and meet their highest standards just like their top of the line melee diamonds and are very beautiful. Their melee diamonds don't have certs, but do display arrows prominently.

So my question is, does a cert even really matter in this instance?
As I said, they are a very trusted vendor, and I have had a great past buying experience with them, they got their good reputation for a reason.
But, there is a nagging in my mind about uncertified stones, so can you put my mind at ease?
If they sparkle like mad, isn't that all that really matters in the end?

Price IS a consideration and this is about as much as I wanted to spend and I like the total carat size.
Is this the best way to get the most bang for my buck?

Looking for some feedback, what would you do?

Go or No Go?