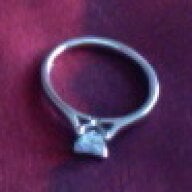 Joined

Mar 4, 2010
Messages

2,357
Hi everyone,
I need some advice regarding a stone set in a cross pendant. I was gifted this pendant at age 12 and told that the centre stone was a round diamond - I don't think it's bigger than .25 but I might be wrong. I completely forgot about it until a couple of weeks ago when I was going through my old jewellery. I have no certificate for the stone and really have no way of knowing whether it really is a diamond or whether the person giving it to me back then was just not being truthful and trying to pass a CZ off for a diamond - I'm also ashamed to admit that after so long on PS, I still can't tell a diamond apart from a CZ with a naked eye

Anyway, I have no intention of ever wearing the yellow gold pendant, and I'm thinking of removing the stone - assuming it is a diamond - and trying to get it reset in something else; at the moment I'm thinking of using it as part of a set of diamond studs. My question is whether I should try and get it certified or whether I can just get it independently appraised. The point is that I have no intention of ever selling it, or any intention of letting it go to waste; I will use it no matter how badly cut it might be. I just want to know the specs so as to try to find a match for it to complete the set of diamond studs.
Do you think that for my purposes it's ok to just get it appraised?