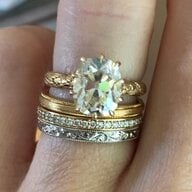 Joined

Jan 2, 2014
Messages

1,686
Haha no need to apologise! I am thrilled to get everyone's replies!

I find it really interesting when I read posts from US-based PSers who seem to have a really clear idea of what is normal within their circles, eg 1ct minimum, 1.5ct is OK but 2ct would be too much. I don't really have that sense. It's more anything goes around here and there is a subtler - and sometimes perverse - relationship between wealth and material possessions. Some of the wealthiest people I know wear plain bands / nothing at all (too busy mucking out the horses in an old Barbour jacket sort of thing), while Big Bling is seen as a bit <whispers>

new money.

Unless it was left to you by a great-aunt, then it's fine.

From friends with a similar background to me (middle class professionals in 30s/40s) who wear e-rings:

- 3 stone princess cut set in platinum, probably 1ctw, with plain platinum band

- very small (.10-.20ct) bezel set in white metal, with matching plain band

- RB about 1 carat set NSEW in rose gold, with plain matching band

- about 0.50ct princess cut in yellow gold, with plain matching band

- 0.3ct ish solitaire in YG with plain band, with plain matching band

- 0.75ct RB half-bezel solitaire in white metal and matching plain band

- EC 1-1.5ct solitaire in white metal with matching plain band (2 former work acquaintances - inspired my own upgrade as I coveted their rings for years!)

- Ruby centre 3 stone with diamond sides in yellow gold - maybe 1ct ruby and 0.3ct sides

- Large dark sapphire centre, maybe 2cts, with small diamond sides in yellow gold

So, all over the place really.

Among the newly engaged younger women I work with, many of whom are from more working-class backgrounds, there is a trend towards more glitzy settings - halos, pave, diamond wedding bands etc. That's what got me thinking about whether US influence is filtering through as it's much more similar to what I see on PS.
Yes I agree there is lots of variety in social circles. Actually my sister who is just out of her twenties has mentioned a few girlfriends getting engaged with whopping big stones so perhaps things are starting to change.