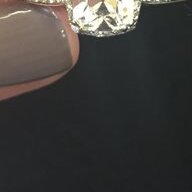 Joined

Feb 15, 2015
Messages

147
Hello PS!!
I really like the UProng eternity rings, however, I don't see any Tacoris paired with them.....I love my Tacori, but I do not want the matching band. I want more diamonds! Lol

I really like the classic solitaire diamond band look...
So the
WF
Annette ring is 3.4 mm wide in my size (~~cough~~ 8 ) I think the Tacori is 1.8..... I don't want my ring to be swallowed up....
http://www.whiteflash.com/wedding-rings/annettes-u-prong-eternity-diamond-wedding-band-578.htm
And the
Brian Gavin
dream....which is shown with .05, so obviously more $$ in .10 pointers, prob out of my range....and it is shared prong, but low profile, which is good....
http://www.briangavindiamonds.com/wedding-and-anniversary-bands/eternity-bands/dream-full-eternity-18k-white-gold-5406w18
And add the platinum cost....

And there is the "Kimberly ring....but no one seems to have that one..?
http://www.whiteflash.com/wedding-rings/the-kimberly-diamond-wedding-band-1283.htm
Last but not least, the age-old question, full, 3/4 or 1/2? i realize the obvious benefits of not having a full eternity, sizing and cost.....but a lot of people will say "no one sees the bottom of ring anyway" so there is something to that....but of course I would love the full - more diamonds!

Thanks in advance and I will post rings after, in case I didn't attach the links correctly...