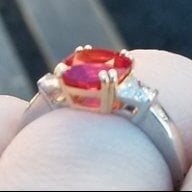 Joined

Nov 3, 2009
Messages

7,294
Subterfuge doesn't play well with me. You didn't answer the question. Now I'm for Warren, feel free to call me Pocohontos

as I have had my DNA done I do have .1% Native American in my background. I have always found the right wingers use ignoratio elenchi when they don't have a compelling argument.

From wiki:

Ignoratio Elenchi

, according to Aristotle, is a fallacy which arises from "ignorance of the nature of refutation". In order to refute an assertion, Aristotle says we must prove its contradictory; the proof, consequently, of a proposition which stood in any other relation than that to the original, would be an

ignoratio elenchi

.
BTW, I am Pocahontas as well - according to one genetic analyzer, my dad is 4% Inuit. (Makes sense, as American Indians came from Siberia).
In my view, though, Liz made a mistake. She did not need to rush for the genetic tests. She had to say, "today, your tax returns, tomorrow, my tests".
He is a bully, and one does not need to oblige bullies.