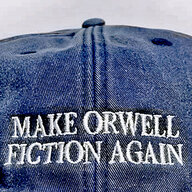 Joined

Apr 30, 2005
Messages

32,285
http://www.fancydiamonds.net/view_diamonds/5326.htm
DROOL-O-RAMA!
I think it would make a nice companion to my green which is 2 points lighter.
They both have funny culets so they are both probably embarrassed when the other FCDs make fun of them being different.
It really looks close to red.
I could look for a yellow round and make a traffic light piece of jewelry.
The traffic light would be a RED light since its color is stronger than the green and I'd find a yellow that was not too intense too.
Unless YOU plan on grabbing it first.

It's shallow at 53.4% but I think that's because of the large culet; the side view shows crown and pavilion angles that don't look too bad. (I've seen sooo much worse!)
This means the light performance may be decent.