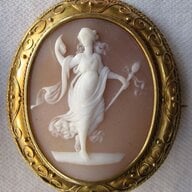 Joined

Apr 17, 2002
Messages

4,076
I bought this antique deco transition cut ring on ebay, for almost $900. It''s in a substantial platinum setting of medium quality, rather worn, but genuinely of the period. He mentioned in the description that one of the side sapphire baguettes is cracked. I like the setting a lot.
In the description, the seller "guaranteed" the center stone to be "at least H in color" and "at least 55-60 points." He did not "guarantee" anything about the clarity, but said it was VS.
The ring arrived today, and I think it''s very pretty. I love the cut of the stone. But it has a substantial chip--no way it''s VS. It''s tucked away near the prong, but still easily visible, especially with a loupe.
Even with the chip, I don''t think it''s a terrible price, given the nice platinum setting, but of course it''s not as good as it would be if it were VS.
What should I do? Keep it or try to return it?