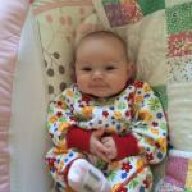 Joined

Jun 23, 2011
Messages

1,442
I have a 6mmish (maybe 6.3) - .90 ct round pink tourm and a couple of small (2.3-2.5mm) nice quality round diamonds that I'm considering trying to put into a ring. My concerns are...
1. is that too small? It's going to be on a large finger
at approx 7.25-8.0.
2. if it's not too small, what type of setting style should I go with? The only thing I'm set on for sure is having it done by DanielM. I

his work, particularly the claw prong settings I've seen. I think that style with have to wait for me to get a larger stone though. The tourm also has some inclusions on the pavilion, so I'm considering bezel for the center and maybe using the small diamonds as "surprise" side stones? I'm just lost with this part!
3. whatever I do decide on, will rose gold work for it?
I'll try to upload some pics once I get some decent ones of the stones all together.
Thanks!