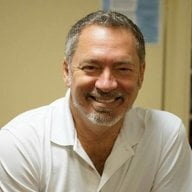 Joined

Mar 28, 2001
Messages

6,330
Examining some diamonds for a potential client. I think we'd be able to fit a lil snack in this cavity for later eh?

It's actually an indented natural that deeply penetrates the surface.
This shot taken in darkfield illumination.
This one in reflective lighting. You can also note abraiding on the facet junctions at the table as well as improperly pointed crown bezel (kite) facet.
Two other indented naturals on the crown as well.
These types of surface breaching inclusions on the crown seriously reduces value and compromises structural integrity.

Rhino