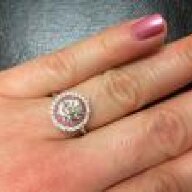 Joined

Mar 4, 2009
Messages

50
Here''s the long and short of it. I have an engagement ring and wedding band from a previous marriage. My ex-hubby and I are still friends and there''s no ill will between us. In addition, my current better half bought me a Facets eternity band in a size that fit me when I was skinny. Well, I had a baby and I''ll never get to wear that Facets band again!
I also have a pair of diamond earrings that I''m not too fond of. One of those things that I HAD to have but then I don''t like the way it looks on me. I proposed the idea of resetting all the diamonds into a pendant/DBTY necklace and a pair of huggies. I also thought I should just try to sell them and use the money towards my current e-ring upgrade. What do you all think? And any suggestions for what kind of pendant???
As a side note, my current SO is fine with whatever I choose although I''m betting selling it to help contribute to my upgrade would be preferable!
Here are the photos of my rings/earrings. Sorry they are terrible...took them with my cell phone!
The e-ring has a .39 ct center and tcw of 1.0. The channel set wb has 11 diamonds .5 tcw. The facets eternity ring is 1.07 tcw 27 diamonds size 6.5. The earrings are tcw of 1.0.