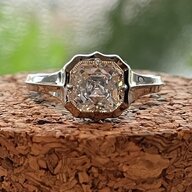 Joined

Mar 2, 2013
Messages

6,293
HouseCat's recent thread made me think about this, as my loose OEC is not yet certed/wasn't cert'd when I bought it. It was appraised as an M, 1.52ct, VS2/SI1 while it was set, and a local jeweler confirmed the color (informally; didn't get a write-up/reappraisal) with his master set when it was removed from the previous setting.
Looking at it under the loupe, I don't know if the girdle would be considered thin, medium or thick, etc., and it has a couple flea bites. So I don't know if having it polished/rehabbed would improve the diamond without much loss in wt/dimension, or if what is visible in the pictures is normal/okay, and would not really make a difference. But if it could/should be polished/rehabbed, then I would think doing so
before
having it cert'd would make sense.
I've took a bunch of close/detailed pictures of it with my loupe and without, so I hope they help (I've only cropped them; no other enhancement), and will post them all to provide as many angles as possible (will take a couple posts to get them all loaded). Under normal viewing, it's just a beautiful, sparkly, eye clean diamond, and I almost don't like looking at it through the loupe and seeing its microscopic 'flaws'.

But as I near trying to decide how to set it, I figure I might as well get it cert'd awhile so that is done, and don't know if there is cause for rehab or not. There are no major chips/cracks/etc. that I can see; my primary concern is the girdle, though I'm most likely to go bezel with setting choice.
Thanks much, in advance, for any input/thoughts. And please don't hesitate to be honest with your opinion/assessment. It's not going to make me love it less; just want the best advice on rehab or not.