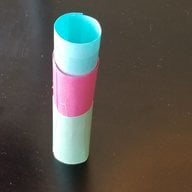 Joined

Nov 7, 2015
Messages

2,485
I often see many members asking about diamond photography and assessing light performance when buying a diamond "blind" without ASET/IS. The best is to stick with a vendor who provide ASET/IS images or getting a ASET/IS for yourself (
http://ideal-scope.com/
). But if these are not your options. Here are some tips.
First,

This is how many beginners take a photo of a diamond. I mean, in real life, this is how a diamond appears and behaves. However, if your intention is to take a photo of perfect arrows and to assess light performance, these images don't do any good. You need a special setup.
Here is how ASET works and different parts of a diamond reflect light.
http://www.whiteflash.com/about-diamonds/diamond-education/about-aset.htm
Here are tools you need. A white funnel from dollar store, white paper or white styrofoam (easy to secure the diamond), black paper, pastry piping bag tip.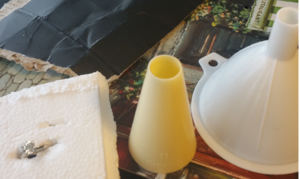 To take an "arrows" photo, place your diamond on a black paper (I layered black paper on top of a styrofoam to secure the diamond). Cover the diamond with a white funnel with THE NARROW SIDE DOWN and THE WIDER SIDE (opening) UP.
If you let some direct light thru, diamond's appearance is more crystal/glass like. (left) If you completely cover the diamond to have it exposed to white diffused light only, the result on the right is what you will see.
Now, flip the funnel and cover the diamond with THE WIDER SIDE DOWN. This eliminate any obstruction and arrows dissapear.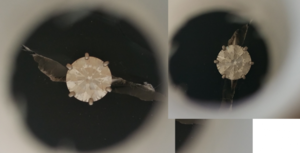 Here you can focus more on light return and blatant light leakage if there is any. I think
Blue Nile
's GGAL "OPTICAL BRILLIANCE ANALYSIS" uses this kind of environment.
Lastly for fun, using a yellow pastry piping tip to mimic the
idealscope
environment. (you need white blackground in this case to check light leakage). Note: yellow is not the most ideal. In fact, it is terrible, because it is hard to distinguish yellow light return from white leakage. But.. hey.. that's what I have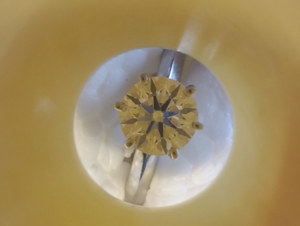 You can roll up any white/color paper into a cylinderical or cone shape. You can also use backlit environment for better assessment of light leakage. I have other methods to assess light return/light leakage. Use whatever you have. ASET is A condition. IS is A condition. Office lighting is A condition, so is spot-lighting.
Create your own lighting conditon, play with your diamond and have fun and happy holidays
QUIZ: It is the same diamond in all photos. WHAT IS THE COLOR GRADE OF THIS STONE??