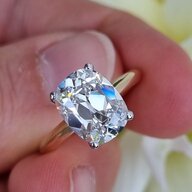 Joined

Jun 30, 2015
Messages

889
Hi all!
I cleaned my best loupe today and thought I would check my tiny diamond studs and see if I could make out the facet pattern. They are vg cut, 0.1 ct h/g si-vs. Not really PS cut standard, but hey, they are so teeny tiny... I bought them 15 years ago, needless to say before I joined PS. I love them! They suit my lifestyle perfectly and I have worn them every day 24/7 since I bought them. Never taken them to check the prongs though, should probably do that!
Anyway, I took some pictures to share, just for fun.
All of them have a slightly different look/pattern I think, especially these two. Also, I really think these two haven't got the same spread! If they were larger I'm sure the difference would show more. The larger one seems to have more fire and the smaller one is more white.
Here are all four.
And well, yes, I should see a jeweler re the prongs....
Thanks for looking!
//
aca