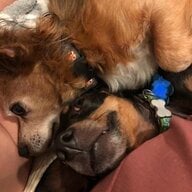 Joined

Apr 29, 2008
Messages

1,139
Ok, I've had my ring for a little over a year. It's in a four prong custom setting that was designed to be similar to a Monique Lhullier setting on
Blue Nile
. I really like the setting. The prongs have a bit of an open tulip type design. However, due to the design, the prongs don't "hug" the diamond from the shank.
Thus presents the problem - I am super clumsy, and have frequently knocked the prongs on the ring on various things. I've knocked it around so much that the diamond becomes loose and it spins. I've had it re-tightened twice. But I just knocked the diamond loose, AGAIN.

So, now it's sitting back in the Mrs. Box because I don't want to lose the diamond. I didn't have this problem with my old Novela b/c the prongs were thicker and sat flush with the diamond.
While I would normally be willing to spend some money to get a platinum setting (ahem, Erika Winter's Laurel Cathedral catches my eye, or even the Margot), I um, have recently placed an order for a custom wedding band...so I don't have the funds for a nice platinum setting at the moment.
Do I admit defeat and get a different style setting that will be better suited to my clumsy nature? And if I do, should I just go with a cheap white gold setting instead of platinum so I can save up? Or should I just get it retightened again?
Would appreciate your thoughts...