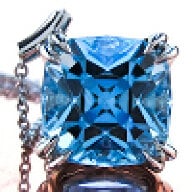 Joined

Jul 30, 2010
Messages

913
I have decided on an aquamarine for my fiancee's pendant, partly due to the really nicely colored ones that have been referenced here lately, such as faegrace's
[URL='https://www.pricescope.com/community/threads/sos-aqua-setting-help.162461/']https://www.pricescope.com/community/threads/sos-aqua-setting-help.162461/
[/URL] and the one Barry sold last week
http://www.acstones.com/productcart/pc/viewPrd.asp?idcategory=139&idproduct=3829
. Thank you for sharing and hopefully this will be helpful to others as well.
To get a better idea of what good quality aquamarine looks like in a pendant, I went to Tiffany's. I did not take pictures and it is not in their catalog, but they sell an aquamarine pendant in a diamond halo setting in platinum similar to the Legacy Collection Aquamarine ring
http://imageshack.us/photo/my-images/19/dsc05795smallcloseup.jpg/
. The pendant comes with a platinum necklace.
I got quotes for the pendant with 2 different center stone sizes.
1.05 carat aquamarine: USD5,500
1.71 carat aquamarine: USD7,200
In other words, they are charging USD1,700 for a 0.66 carat increase in size.
The colors of the stones are pretty similar, and if faegrace's and Barry's pictures are accurate for color on my monitor, then I would say the ones I saw in the store are more grey.
I didn't expect to be more shocked about their markup on aquamarine than their markup on diamonds.