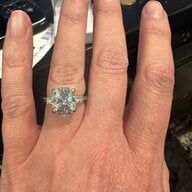 Joined

Nov 12, 2011
Messages

956
Hello lovely PS'rs
I'm still wanting to buy the Tiffany Victoria earrings.
I found some on eBay and this same pair are on 1st Dibs which makes me feel confident that they are genuine.
http://m.ebay.com.au/itm/Tiffany-Co-Victoria-Platinum-Diamond-Earrings-5400-/401142491291?nav=SEARCH
I'm a bit confused at the listing says retail at T&Co is $8550 for the small size which is .64ct total, where as the mini is $4990 and is .19ctw
The Ebay listing says Tiffany retails their listing for $5400 and is .64tcw so is this a really good buy or am I missing something?