Hi! This is my very first post after stalking and learning so much from pricescope.
My bf and I both have our heart set on getting a Tiffany's engagement ring specifically the Tiffany 6 prongs setting.
I am hesitating between these two diamonds and since I cannot see either in person, are there anything to help me determine the best one? Is it worth the extra $900 for the bigger one?
Diamond #1 — $22,500
Carat: 1.33
Depth: 62.3%
Table: 56%
Pavilion angle: 40.8
Crown angle: 35
Measurements: 7.01x7.02x4.37mm
HCA score: 1.5
Diamond #2 — $23,400
Carat: 1.38
Depth: 62%
Table: 56%
Pavilion angle: 40.9
Crown angle: 34.3
Measurements: 7.11x7.15x4.42mm
HCA score: 1.3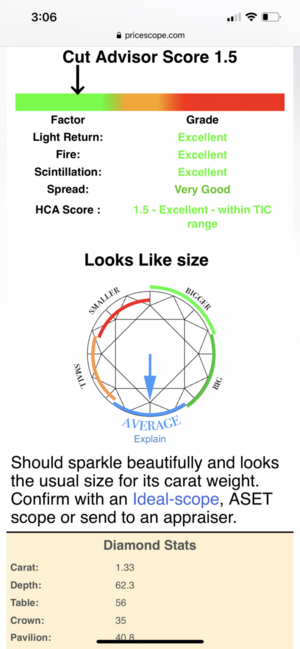 Both diamonds is Color G, Clarity VS2, Triple excellent with no fluorescence!
Thank you in advanced for all your help.