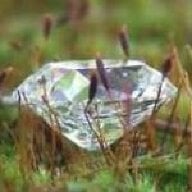 Joined

Jun 29, 2006
Messages

11,071
Date: 11/29/2006 7:26:27 PM
Author: winternight
Oh sorry I meant for smaller stones. The 66k is way, way out of anything I would be looking at for some time. The price difference here is pretty amazing, isn''t it.
if it''s worth it to you, then it is worth it, period. I really wouldn''t care about the money saved so much as you can get a *superior* diamond than those at tiffany''s for the same or less. It just wouldn''t say "tiffany''s" inside it. But if you really really really want it to say tiffany''s then get one that says that. Keep in mind upgrading too though.... you may only be at a 15k or less phase now but someday you might want the 66k stone and wish you could save the $20k or get a full half carat larger.