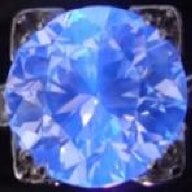 Joined

Apr 26, 2007
Messages

8,087
I love thumb rings. I know they're not exactly the most genteel things these days, but ... look. In an old thread where somebody asked about them, another poster - Trekkie, I think - mentioned that she knew a lady who could rock them. Said she was ... here, why don't I look it up and quote specifically: "tall and big and erm... quite busty. Very alternative lifestyle living, if you know what I mean." Dude, that is me to a T. You know the lyrics to "I Need a Hero?" Well, I'm larger than life.
And now, so is my thumb ring! Roughly 4 ctw of step-cut yumminess, platinum, size 8.5, and
just
what the doctor ordered now that my preggo hands have swollen to the point that I can't wear my wedding set anymore. It goes v. nicely with my carre band, and, funnily enough, fits my husband's hand perfectly - though oddly, he prefers to eschew the bling. Hey, all the more for me! Between the apartment hunting and the whole carrying-20 lbs-plus in
August
, this is just the pick-me-up I needed.