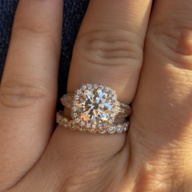 Joined

Dec 10, 2019
Messages

92
Posting again because I'm indecisive. I posted about a 5 stone a couple of weeks ago but now I'm leaning toward doing a 3 stone. I want to create a RHR with my original engagement diamond front and center. I feel like a 5 stone wall of bling on my RH might be a bit much with my new E-ring to do all at once and I've fallen in love with the look of the 3 stone I will link here.
My diamond is a .78 and measures 5.5 mm - 5.7 mm.
I'm thinking between .25 and .45 ct sides but I'm not sure what would look best. I wear a 6.5.
my other dilemma is that I love 6 prong from the top view but 4 prong from the side view because you can see more of the diamond from the side. My husband and I used to love to look at the diamond from the side when it was a solitaire.
I love love love the entire look of this ring posted by another PSer. What would you do? Leave it 6 prong, do 4, something different? Also, what size side stones? I think .25 proportions would look good but .4 would give more finger coverage!