Ok, not even engaged yet (waiting for my divorce to come through before we get engaged officially), but, the date is set for June 2022 (our 3 year dating anniversary happens to fall on a Saturday that year, so it feels like it is meant to be lol).
So I am thinking ahead massively, but would like thoughts on this idea: my birthstone is sapphire, OH's is emerald, and June is pearl; and I like the idea of incorporating all 3 into a piece of jewelry for each of us.
For me I am thinking a thin yellow gold chain, with 5 tiny (0.1-0.2ct ish) stones hanging from it (white sapphire; emerald; pearl; emerald; white sapphire): a bit like this: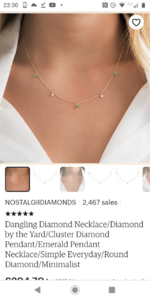 Then for my OH, I want to get cufflinks. But they are SO expensive if they come set with stones/if you get them custom made (seeing prices of around £1500). If I bought plain solid gold cufflinks second hand, could I get tiny stones set in do you think?
Ideally I am looking at £500-600 per piece; is this achievable for what I want?