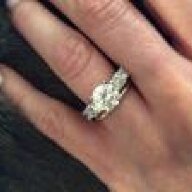 Joined

Dec 28, 2015
Messages

24
I'm still trying to fine tune the upgrade of my e-ring from a 5-stone to 3-stone. I've learned so much through this process & just wish I'd come here before I set down this path. my DH & I made the mistake of thinking we could walk in to our local jewelry store over lunch, pick out a nice substantial center stone, tell them what design we wanted and be out of there, all for about $5K. (Everyone please feel free to stop & have the laugh this deserves!) The 1st stone we purchased was a 1.52 carat E SI3 EGL certified, which we stretched our loose budget to get. Shortly after I opened the ring, I noticed the stone appeared milky/cloudy. I read about fluorescence & the 4 Cs & concluded this diamond was crap. I learned a lot here & upgraded to a 1.66 H SI2 GIA h & a, XXX, which I loved but thought too small in proportion to my side stones. I decided to do it "right" & upgrade again. I also decided to have a new setting made, as the end stones were set too high & their sharp prongs rubbed my pinky & middle fingers on my size 4.5 finger. I pointed out to my local jeweler that the design flaw they created required me to get a new setting & I would purchase it myself but in return, wanted a good deal on a larger center stone, which they agreed.
I then bought my current stone, a 2.03 carat H SI2 GIA h & a. I was going to have a new setting made as planned (I want the trellis design & have several quotes--from
Brian Gavin
, IDD Jewelry & Debebians & waiting on
Victor Canera
). Now that I've had the new stone about a week, although it has a nice sparkle, it sometimes seems "cloudy " or "hazy " in certain lights, but I wonder if I'm just paranoid because of my first stone & the fact the cert for this mentions clouds. (However, it does NOT say that clarity is based on clouds not shown, which I know is a no-no.) We've now spent just over $19K for this stone (a tad more than our unrealistic $5k budget!) However, I now know We could have gotten a much nicer stone on-line for that price.

BTW, when I bought the latest upgraded stone, the jeweler somehow lowered my end prongs & polished them so they are no longer uncomfortable, so the ring is tolerable for the moment.
Before I move forward on the trellis setting, I wanted to get thoughts on this stone. The jeweler told me it was eye-clean. I believe that's true as to regular inclusions, but I'm afraid the cloud inclusions are making it look cloudy sometimes. Before I spend the money for a custom setting, I want to be sure I'm keeping this stone. I'd love to have thoughts from you all as to whether you think I should keep this stone (does it look ok, is it a good one?) or should I upgrade? If I do upgrade, I'll need to wait about a year since I'd probably get a same size in SI1, which would probably be another $5K. My DH has been patient but now he's starting to think I have unrealistic expectations . I hope those of you who know diamonds & hear that I stared with a non-GIA cert SI3 realize that's not true. Anyway, here are the specs on my current stone:
GIA 1209881784
RB 8.15-8.20-4.97 mm
2.03 H SI2
Cut: Excellent
Polish: Excellent
symmetry: Excellent
Fluorescence: None
Here are a few pics: