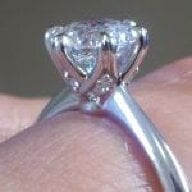 Joined

Jul 25, 2011
Messages

314
Thanks to
nfowife
, who pointed out that
GOG
carries Canadian diamonds, we are now looking at this stone:
1.06 F SI1 GIA Ex/Ex/Ex HCA = 0.8
6.55 mm x 6.58 mm x 4.02 mm
Table 56.18%
Depth 61.4%
Crown Ang 35.02 deg
Pav Ang 40.58 deg
Price $8,162
Link to images:
http://www.goodoldgold.com/diamond/8468/
Should I be worried about the HCA score of 0.8? I have read here that score should fall between 1 - 2. We reserved this stone and have an appointment to see it on Thursday, but I'm not sure I trust my eyes! Any others we should ask to see? This one is stretching our original budget of $7,500 a bit, but is doable. I am okay going under the magic carat mark to save money, but would prefer to stay in the colorless range.
Thanks in advance!!