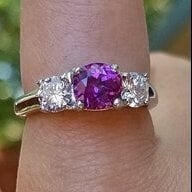 Joined

Sep 11, 2013
Messages

1,022
Hi all! Soooo I may have found myself a new ring, but it's in need of an 8mm center. I'm scratching my head trying to come up with what I'd wanna put in it.
I happen to find this ruby below. It has a GRS cert that says it's unheated. The listing says it's semi-transparent. I like the color and don't mind silkiness (but wouldn't want a "dull" or "lifeless" stone).
What are y'all's thoughts on this one? What might be a reasonable cost per carat?
My problem is I didn't really give myself a budget. I started with wanting to just pop in a "cheapy" stone for <$500 while I save up for a forever stone. Then I'm like, well, for a bit more $, I can get a "nicer" stone! Now all of the sudden I'm looking into $$$$ gems
I'm also not dead set on a ruby. Just thought of getting one since: 1) I don't have any yet, and 2) I have wanted to add a red CS ring to my collection.
Any input is appreciated. Sorry I'm so wishy washy on everything. Anyways, thanks for reading!