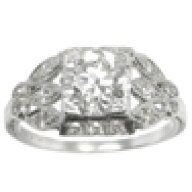 Joined

May 27, 2011
Messages

82
I won this on Ebay (sorry if the bidder I was up against is out there reading this!); thought it was very unique. Not much is known about it; here is what the seller listed it as:
I don't know what this is. My thoughts is that this could either be a religious piece, or some sort of mourning pin. The face is hand painted, the figure is cut out of cloth or linen. Whatever it is, it is wonderful, and amazingly well preserved, For a piece that is mid Victorian. Anyone who wishes to help illuminate this is welcome. It is about 2.5 inches high by about 2 inches wide.
Anyone have any thoughts about what this could be and what is that long stick thing in her hand???