Joined

May 26, 2020
Messages

13
I'm looking for a MMD close to 2CW, eye clean and near colorless for a 10 year anniversary update to my wife's engagement solitaire. While going through various seller's inventories linked in the
MMD sellers list
we found one that seemed surprisingly good for the price:
Note All Takara Ideal Cuts have SAMPLE images and video. On these particular diamonds if you order through us you'll get our full complete lab analysis.Diamond Details Measurements 8.22 x 8.24 x 5.1 Cut Grade Super Ideal Hearts & Arrows Round Lab Report
www.distinctivegem.com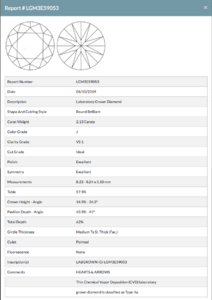 I plugged the stats into the HCA calc and it came up with a 1.6 score which seemed reasonable from what I've read in these forums for ring scores. Is there anything I'm missing that would be an obvious issue with this diamond or this seller? I'm still very new to the diamond world / MMDs so any thoughts are greatly appreciated!
Thank you
Last edited: